By Jim Goodwin on Apr 15, 2019 10:53:01 AM
At the End, There was Not a Dry Eye in the House.
The 2000 PWBA Track Doubles - winning it for dad.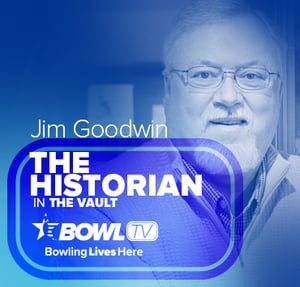 There is a special bond between fathers and daughters. As the father of a son and two beautiful girls, I can testify that a father's love for his daughter is never ending.
It was that father/daughter connection that produced the most emotional bowling tournament ever for PWBA stars Robin Romeo Mossontte and Jeanne Naccarato in May of 2000.
At the beginning of the week at Sam's Town in Las Vegas, the two best friends decided to dedicate their efforts in memory of their fathers who taught them so much as young bowlers . . . and simply lessons about life and how to treat others.
A couple of years had passed since Jeanne lost her dad. Growing up in Cleveland, she was the youngest of six siblings. Her dad was also her junior coach. Robin's dad, Ray Romeo, passed away only two months prior to the event. In a show of respect, an empty chair was placed behind the championship pair by PWBA with Ray's name on it . . . it is where he sat for so many of Robin's television appearances, and where he would have been that day.
"When I saw the chair," said Robin, "I just lost it. My sister Tori lost it . . . my mom, Jeanne . . . we were all a mess. It was so nice and classy of PWBA to honor our dads like that."
The two legends were 42 when the event began, and they knew it would take a wonder woman effort to come out on top against the best players in the world, some of them 20 years younger.
But they had experience on their side. They had grit, they had determination, they had the chemistry that only love, friendship and family can provide. They put pressure on themselves to win for their dads . . . but they love pressure.
A total of 27 combined pro titles proved that they could handle it.
At the time, it had been five years since Robin won her 16th title, and seven years since Jeanne won her ninth. That didn't seem to matter. They felt they were unstoppable that day.
"I had never see Jeanne so fired up for a match as she was that day," said Robin. "And I was the same. When she picked up the big split early in the match, we were on our way."
"When I made that split, I remember thinking 'We've got this, we are going to win'," said Jeanne.
And they did win, defeating Australians Maxine Nable and Carol Gianotti, 231-207, for the title. At the end . . . hugs from Robin's sister Tori and mom Joan, from Jeanne's husband Stan, and they all had a good cry with a couple of hundred fans joining in.
It was one of those shows that will always be remembered. Special for me because I knew and loved Ray Romeo like everyone else who knew him. We sat side by side when Robin won the 1993 Sam's Town Invitational. Tears flowed that day too, especially from Ray.
Get your tissues ready before you watch this amazing show on BowlTV.
Jim