By Jim Goodwin on May 23, 2019 4:32:25 PM
I am loving this Bowl TV . . .
On Wednesday May 15, my wife CJ and I watched the PWBA Hall of Fame ceremony live from the Wichita Marriott Hotel. We would have loved to have been there, but this was the next best thing . . . and it was presented free for anyone who wanted to tune in.

If you missed it, just go to the archives.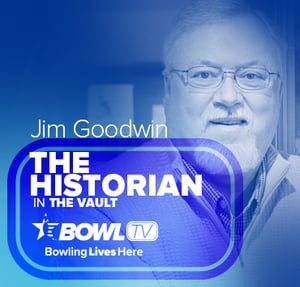 It had been 16 years since anyone had been chosen for the professional women's hall, and kudos to all involved in bringing it back . . . they did a great job all around.

The inductees were very deserving and long overdue. On the performance side, it would be hard to find two more qualified inductees than Leanne Hulsenberg and Wendy Macpherson; and for her meritorious work with the Striking Against Breast Cancer Mixed Doubles and raising funds for cancer research, Houston's Donna Conners has been outstanding.

As a bonus, the ceremony also gave 2003 inductees Virginia Norton and Anne Marie Duggan the chance to give thanks and give the speech they didn't get to give in 2003 because the tour stopped in the middle of that year. Norton declined, but Duggan accepted and gave a wonderful and heartfelt speech.

In 2004, it broke our hearts that Virginia and Anne Marie did not get their just HOF awards, so we had plaques made and carved out a few minutes to recognize them during our Ladies Classic Tour National Finals. Macpherson won the event. LCT is another story . . . it will be listed with the National Bowling League and Generations Pro Bowling Tour as noble but unsuccessful attempts to make bowling better.

When Hulsenberg got up to speak, she commented about how good Anne Marie's speech was, and I agreed and thought it should have been good because she had 16 years to prepare . . . it also had some emotional moments because she was missing her dad Bob Pike who passed away at 94 a couple of years ago. She also had very nice things to say about her husband Pat, her mom and her five sisters.

Wendy Macpherson was listed with 20 titles, but if you throw in the 10 titles she won in Japan after the American tour stopped, she is right up there with the best ever. I also thought it was nice that her best friend Carol Gianotti came all the way from Australia to share the joy with Wendy Mac, her husband Nick and many others.

Hulsenberg had a phenomenal career as a pro bowler. It started with three titles in her rookie year in 1987 . . . she might be the best rookie ever. We first got to watch her up close in '88 when she won our Columbia 300 event in DeSoto, Texas. I was GM of the Advantages Bowling center then, working closely with Sherrie Slaughter to stage the event. I'll never forget watching Leanne stand sideways on the approach and take that crossover step to get started. It was an odd habit she later changed; but there was nothing wrong with her finish and release. It earned her the nickname "Boomer."

Leanne was on the Ebonite staff for 22 years but has spent the past few years working with her husband, Gary, for Storm Bowling Products. She talked about how special it was that Gary and their son Barrett got to share in her U.S. Open victory inside Dallas Cowboys Stadium in 2011. It was a very special day for all who attended.

We have known Donna Conners forever. She and her best friend Luci Bonneau bowled in almost all of the early PWBA (LPBT) Southwest Regional events, and when Luci passed away in 1999, we worked with Donna to establish what has become one of bowling's most successful events. It started as a PWBA SW Region event from 2000-2004 when we were involved, and today it is a PWBA/PBA National Mixed Doubles . . . but the best part has always been the money it raises for cancer research, now north of a million bucks thanks to great sponsors and Donna's hard work and tenacity.

Here's to hoping the PWBA and this Hall of Fame has no more breaks . . . watch it on Bowl TV, but get your tissues ready.
Jim