By Rod Ross on Mar 14, 2019 6:45:22 PM
I'm Team USA head coach Rod Ross, and I'd like to welcome you to the first edition of The Video Room blog.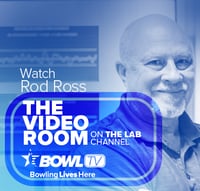 One thing I'm asked about quite a bit in the course of my travels is, "What makes (fill in a Team USA bowler's name here) so great?" Another thing a lot of people ask me about is, "Can you analyze some video of my bowling game and tell me what I'm doing wrong?"


So, I decided that is what my new video series on the BowlTV channel "The Lab" would be all about.

That is, analyzing video of great players, so you can understand some of the things they do well (and sometimes even showing how they've improved some of their weaknesses over time) and maybe even incorporate those things into your game. I also hope to analyze video of bowlers in our BowlTV community to identify some things for them to work on.


That's really the heart of what we do at the International Training and Research Center, not just for Team USA members, but for any USBC member who is looking to improve and wants to come see us.

For those who aren't familiar with the process, it involves what we call a "Shot Repeatability Analysis." That term should sound pretty self-explanatory, but what it really allows us to do is assess your game across a number of factors, such as, "how consistent is this person at hitting a target, controlling ball speed and applying rotation?" or "how good is this person at playing the outside part of the lane versus the inside?"

We have a lot of cutting-edge technology at the ITRC, and that helps us collect data and find the symptoms that might be causing the issues we find in a player's game. Then, we can come up with a solution and give the bowler something to work on to improve.

The initial batch of videos you'll find in The Lab take a look at some of the game's best players, including Jakob Butturff, Kyle Troup, Shannon O'Keefe and Kelly Kulick.

In those videos we looked at things like how Jakob is able to generate ball speed with such a short backswing, and also how his unique release works.

With Kyle, one of the things we initially found in assessing his game is that he was better at playing the outside line than he was the inside line, which is the exact opposite of what you'd expect from a two-hander.

We have additional videos planned every two weeks, and we'd love to hear your thoughts on what topics you'd like us to explore (things like, "how did Shannon O'Keefe increase her rev rate?" or "what makes Chris Barnes such a great shot-maker?"). Or, if you dare, send us some video of your game, and ask us what we think.

See you soon!
Rod